Testimonials
Jamie
Grateful parents
Thank you Tom for all you did to get our boy through this mile marker in his life, You are such a genuine down to earth real person. A good man and you deserve much respect, Good luck in your future Tom, From two grateful parents.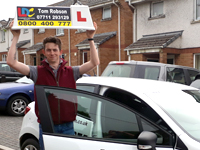 Jamie
12 hrs only1 fault and a first time pass
Tom as an instructor is a brilliant teacher and driving instructor. Brilliant teaching methods and makes you feel at ease,always making you comfortable. The workbook really helped towards my driving ability very well designed the pictures are helpful as well I would not hesitate to recomend Tom for your driving lessons after all that's how i got on touch with him when he was recommended to me it was definitely the correct choice. 5 stars for Tom.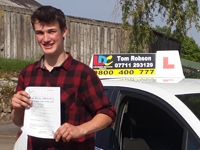 Charles
What a great pass and only 20hrs tuition
I found the work book and videos to be very clear and a great way to help with my learning. Tom was very informative and easy to get along with he also was very easy to learn from and could explain things well when I needed it and helped to bring out my driving skills in a fun professional way.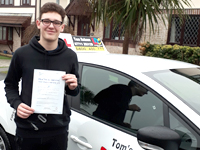 Ryan
Passed first time
Thank you! Enjoy your evening! You said you enjoy client feedback, throughout the process you felt less like an instructor and more like friend! I was always looking forward to the next lesson! And that's the best atmosphere you can give someone as I felt comfortable and relaxed at all times and I knew you always had my best interest in mind and again I would like to thank you for that!
Call today on 07711 293129 or Email me to find out more
If you have any questions or to book lessons today, feel free to contact me